---
SAINT BRIDGET AND
BLESSED HEMMING'S
Catholic Parish
·
IN TURKU 🇫🇮 FINLAND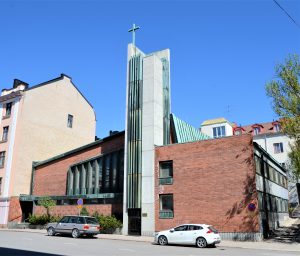 · Holy Week! ·
---
EMERGENCY ARRANGEMENT
DUE TO A CORONA VIRAL EPIDEMIC
·
NO PUBLIC MASSES
18.3. – 13.5.2020
──
LIVE STREAM:
Holy Mass in Finnish
and Adoration
·
·
On Sundays at 10.30
On Mondays at 07.30
On Tuesdays at 18.00
On Wednesdays at 07.30
On Thursdays at 18.00
On Fridays at 07.30
On Saturdays at 07.30
──
EXCEPTIONS
On Friday 10.4.2020 at 15.00
On Saturday 11.4.2020 at 22.00
On Monday 13.4.2020 at 10.30
---
· ANNOUNCEMENT ·
Dear parishioners!
·
SCAM ASKING FOR MONEY
·
I have been notified that there have been e-mails sent in my name, asking for money. The messages mention various causes for which money is supposedly being collected. The messages often state that this is a matter of emergency, and the money is needed right away. I have taken the matter to the police, and it is under investigation. Unfortunately, some will likely be fooled by this and will send money, as I am aware of someone already having done so.
·
Under no circumstance should anyone send money based on these messages!
·
Were a situation requiring money to help right away arise, I would write about it on this official website of our parish. If you ever receive a suspicious message, I ask that you contact me in order to confirm what is happening.
·
Let us hope that the police soon catch this criminal, and that together we can help those of our sisters and brothers with true need.
·
God bless!
·
Father Peter Gębara SCJ
Parish Priest
☏ 0400 458128
☏ +358 400 458128
✉ peter.gebara (at) katolinen.fi
---
---
Webmaster