---
SAINT BRIDGET AND
BLESSED HEMMING'S
Catholic Parish
·
TURKU 🇫🇮 FINLAND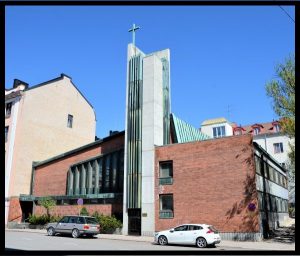 Holy Masses
· WEEKLY PROGRAMME ·
15. – 24.10.2021
---
EMERGENCY ARRANGEMENT
DUE TO A CORONA VIRAL EPIDEMIC
To prevent dangerous situations, security measures are now being implemented in our parish to minimize the health risks posed by the corona viral:
Only those without any symptoms of a cold or of corona viral may attend Mass.

Those at higher risk are asked to remain at home.
Social distancing of at least 2 meters must be maintained at all times while in church.
The Sign of the Peace by shaking hands is left out.
Only the marked seats may be used. However, members of the same household may sit together in the same row.
No seat reservation needed.
──
· Changes are possible ·
---
ON FRIDAY 15.10.2021
St. Teresa of Ávila, Virgin and Doctor of the Church
---
ON SATURDAY 16.10.2021
St. Margaret Maria Alacoque, Virgin
07.30   Mass in Finnish

16.00   Mass in Aramaic
---
ON SUNDAY 17.10.2021
29th Sunday of Ordinary Time
09.00   Mass in Latin

10.00   Rosary

10.30   High Mass

13.30   Mass in Tagalog

18.00   Mass in English
---
ON MONDAY 18.10.2021
St. Luke the Evangelist
---
ON TUESDAY 19.10.2021
18.00   Weekday Mass in Finnish
---
ON WEDNESDAY 20.10.2021
07.30   Weekday Mass in Finnish
---
ON THURSDAY 21.10.2021
17.30   Rosary

18.00   Weekday Mass in Finnish
---
ON FRIDAY 22.10.2021
St. John Paul II, Pope
---
ON SATURDAY 23.10.2021
07.30   NO MASS

09.30   Catechesis

10.00   MARIEHAMN: Mass in Swedish or English

13.00   Family Mass
---
ON SUNDAY 24.10.2021
30th Sunday of Ordinary Time
09.00   Mass in Swedish

10.00   Rosary

10.30   High Mass

15.00   EURAJOKI: Mass in Polish

18.00   Mass in English
---
·
---
Webmaster